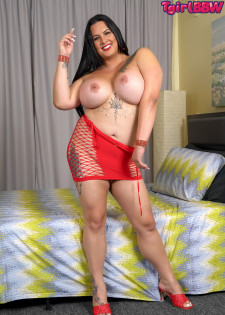 More Melanie, as she appears wearing her favourite fire-engine red color, in a sexy outfit and matching lipstick. Those lips are definitely going to leave marks on your shirt, so why don't you take it off and let her go to work on your body ... they look made for sucking your cock. Those massive breasts, will work your cock between them, as she licks the end of your penis getting you harder. Then she's bent over and ready.
24th Aug 2022
15:34 HD Video
& 111 Photos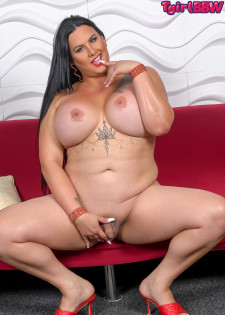 Florida BBW girl extraordinaire returns for her first shoot since 2018 - and she's maturing like a fine wine, getting tastier, classier and a scrumptious mouth feel. 5ft 8, Melanie loves to show off - and she makes sure she looks her absolute best with a manicure and pedicure, beautiful hair and make-up that's on-point! She's a lot of woman, and ready for action, are you man enough to take her?
10th Aug 2022
13:29 HD Video
& 106 Photos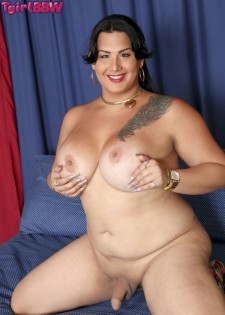 Top notch hottie Melanie got some treat for you. Melanie's big tight ass alone will definitely make you hard as rock. I'm sure all you BBW lovers out there will have a good time killing the replay button. Enjoy!
9th Aug 2018
12:31 HD Video
& 113 Photos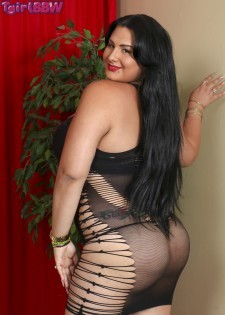 Now there is an ass you can get into. Melanie is built! She's tall, she's got the curves, she's got an ass that just is ready for plummeting and it looks like she's such a sweet girls. Smooth and lovely (and with that uncut cock) - bring it on, Melanie.
13th Jul 2018
13:38 HD Video
& 114 Photos
The thing about Melanie is that she´s totally adorable. She´s up to some fun today and she looks awesome as she strips out of her clothes. She's wearing a very sexy nightwear paired with gorgeous heels and shows off her big tits and hot curvaceous body for our pleasure.
27th Jun 2018
13:33 HD Video
& 111 Photos
Super cute raven-haired Melanie rips up her BBW TS encore today! Not the least bit shy in her debut she rocked it in front of Jack Flash's lens. This horny Grooby girl has a delicious curvy body, big juicy 38DDD! boobs and a sexy juicy booty. Enjoy!
27th Jun 2018
14:30 HD Video
& 110 Photos